Its been a while, noun and this marks then end of the most recent radio silence!
There has been a lot of talk about Cai Guo-Qiang thanks to his incredible retrospective at the Guggenheim in NYC.  I was fortunate enough to see it in person, buy information pills and truly it is difficult to describe the awe of being in the presence of such drammatic and powerful work.  Take a look and you'll see what I mean. 
Please read WMMNA's post about it. Loads of good stuff can be found on the artist's site and wikipedia.
My other guest artist today is Yves Klein.  I recall seeing a retrospective of his genius work at the Centre Pompidou in September 2006. I was struck by the scope of this man's short by incredibly prolific career. That and the fact that regardless of whether he held a flamethrower or a paintbrush, his hair was perfectly manicured, his shirt tucked in and contained by his very smart waistcoat -- and then there's the bow-tie…
He is perhaps best known for developing International Klein Blue and the paintings he created with it. However, I would rather like to focus on his fire paintings and sculptures. 
For further reading/viewing: A guide to his lifes work in french and english. And of course -- Wikipedia and flickr!
Both artists have a love affair with spectacle. Their work is the product of live performances -- where they are simultaneously directors, producers and actors. Their final works are captured not by the lens of a camera -- but rather burnt into the canvas. By using fire to produce their work, they create juxtapositions between its destructive power and the gentle poetry of the images; between the exposed naked bodies and the intensity of the flame; and between the animation of the elemental force, and the resulting stilled results of flames on canvas.
The artists act as catalysts transmuting the flickering energy into one-off containments of its beauty. They are separated by time, but joined in methodologies, media, and an obsession with the act of creation -- through an element most often associated with destruction.
Some 'making of' videos of his Gunpowder drawings, and Explosion Events:
And a few more images:
 
Yves Klein's work: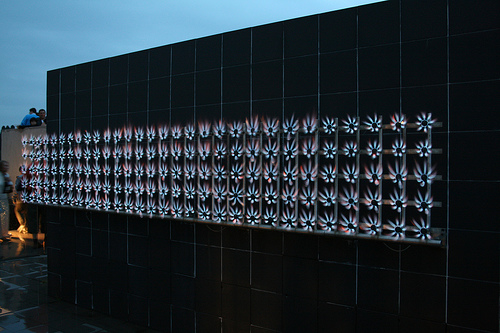 Some great video's of Yves Klein doing his thing: